Toddler Snowsuits
The following information will orient parents on some of the major points to consider when shopping for toddler snowsuits. Obviously, you want to keep your baby as warm as possible and it is very easy to do so by dressing him or her in one of the many high quality snowsuits made today by most of the major manufacturers of children's winter clothes.
Listed below are some of the major points to keep in mind while shopping for a snowsuit;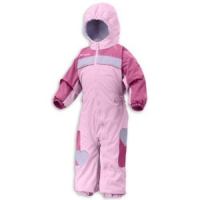 Thickness and insulation: While you certainly want your toddler to stay warm, be careful not to select a suit that is designed for colder temperatures than are typical in your area. If you live in a region that has extremely cold winters you should consider heavily insulated clothing that is rated for below freezing temperatures. But, putting the same suit on a toddler in an area in which the winter temperatures stay above freezing and perhaps never dip below 45 degrees, you run the risk of overheating, which is very dangerous to any child.
Weight: These suits can, if heavily insulated, get somewhat bulky and heavy – which can affect your toddler's mobility. Restricted mobility can bring about other problems such as making walking and playing difficult, or perhaps making sitting in a car seat uncomfortable due to the bulk of the suit making the "fit" of the seat too snug. Remember, your toddler won't be able to complain to you in most cases, so you have to be vigilant and ensure that he or she is wearing an appropriate, comfortable snowsuit.
Fastening systems: A key factor to consider when selecting a suit. While most fasteners work quite well, some are better than others should you have to change diapers while traveling, etc. Think about what activities your child will be doing when wearing the snowsuit and consider which type of fastening system will make it easier for you to change diapers, as well as the dressing and undressing process. Typically, fasteners are made of velcro, zippers, buttons, etc.
Hoods: Some snowsuits come with hoods and you must consider if this is a good option for your toddler. Hoods are quite effective in protecting children from wind, rain and cold, but some designs can be somewhat restrictive and cause chafing on the face and neck. If you desire a suit with a hood, make sure it has enough room for a knit hat to be worn underneath it. Some of the better made suits have detachable hoods, which are a very nice feature that enables you to use it when the weather calls for it and take it off when it is not necessary to help keep your baby warm.
Size: Toddlers grow quickly and it is probable that your baby will be larger at the end of the winter than he or she is in the fall, which is when most parents purchase snowsuits. Factor in some growth and if appropriate, buy a size larger than your child currently wears. Unfortunately, snowsuits rarely are used by the same child two winters in a row due to their rapid growth. Consider this when buying and be realistic about how much your child will wear the suit. While you certainly don't want to buy a poorly made suit, there's also no sense in spending excessively for a suit which might be worn a dozen or some times before your child outgrows it.
Car Seats: Do not overlook this factor when choosing a snowsuit! Chances are your baby will be traveling in a car seat and you want to ensure a safe, comfortable fit. The sheer bulk of some snowsuits make it virtually impossible for you to secure your toddler in the seat. We recommend that you put the snowsuit on your toddler and place him in the seat to check the fit. Make sure that all buckles, belts, straps, etc., can be secured as intended and that your child isn't being pinched or cramped.
There are many high quality toddler snowsuits on the market today that are matching their toddler snow boots, and we hope that this information will help you make the best choice for your child.
Newborn Unisex Baby Hooded Winter Puffer Snowsuit with Shoes and Gloves Toddler Warm One Piece for 18-24 Monthes Dark Blue
List Price: $39.89
Sale Price: $39.89





Features:One-piece for baby girls and boysDouble-Zipper closure full-length in the front,easy to put on and take offDown cotton rompers has a thin,soft,good thermal insulation,not easy to deformation,with down feeling,its thermal performance than the same weight of downAge Range:0-4 year old babys, Extra thick to make sure your child is warm and comfortable, zipper closure design for easy dressingSpecifications:Material:Down cottonSize M(100)cm/inch:Total length:61/24...
Mud Kingdom 3 Piece Baby Toddler Boy All In One Snowsuit Romper Winter 18-24M Navy Blue
List Price: $71.00
Sale Price: $42.99





Hi there,We appreciate you taking the time to browse our products.Fabric: Polyester TaffetaFilling: CottonLining: Polyester TaffetaYou will get tons of compliments on it because of this cute and practical romper! Used smooth and airtight fabric to keep away from the wind when baby in the outdoor, one improved zipper on each side to make sure the romper is put on and taken off easily...