Toddler Snow Boots - A Parent's Guide
If you are purchasing a set of toddler snow boots, you need to consider a few things in order to make an informed decision. There are a lot of things that you should know, so you can choose the best boots for your toddler. There are a lot of different styles to choose from, and not all boots are made equal.
The fastening system is one of the most important details you should think about while selecting your child's snow boots. It's best to choose slip on snow boots as they do not let any snow or moisture in, keeping your toddler's feet dry and warm. With other options like lace-up, Velcro-based, and button fastenings, moisture can easily get in. Furthermore, make sure that you choose a boot that goes at least past the ankle. Ankle-boots easily let in snow and other moisture, even as your child is walking. Knee high boots are the best option as they provide maximum protection.
The sole of the shoe is also a very important consideration. You want a non-slip sole so that your child can easily walk over icy and snowy streets without slipping. A lot of accidents happen this way and you can prevent them easily by buying your child the right pair of snow boots.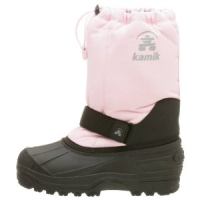 When choosing your toddler's snow boots, the temperature, weather and climate in your area should also be considered, as this will play a big role in the kind you choose. You'll be able to find snow boots in various thicknesses and insulation capabilities. You want to choose a pair that is right for your temperature. If you choose something that does not provide enough insulation, your child's precious feet will get too cold. On the other hand, if you get one with too much insulation, your child's feet could get hot and uncomfortable, and could lead to overheating. Also, just because the boot is well made doesn't mean that it is fit for your area. Consider the specifications of the boot, and don't be afraid to ask questions. Talk to the salesman, or do some research so that you know which kind of boot you are looking for.
To ensure that you buy a pair of boots that your child will wear, bring your toddler to the shoe store and let them pick a design that they like. Remember, kids won't wear something they don't like, so it's best to spend your money on something they'll wear. Once your child has selected a design he or she likes, you can then check if the boot is appropriate, or is worth buying. Furthermore, have your child wear very thick socks while trying on snow boots. Chances are, they're going to wear those socks during the winter. Leave room for some adjustment, as children's feet grow so fast. If you leave some room, your child will be able to wear the boots for winters to come. With the different styles and colors, toddler snow boots give your child the protection and warmth he deserves.

Happy Shopping!
Chillipop Colored Snow Boots For Boys, Girls, Toddlers & Little Kids
List Price: $34.99
Sale Price: $24.97





Chillipop shoes for kids, toddlers and babies come in all styles, shapes, bright colors and fun patterns. From jumping in puddles to building a snowman to spending the day at the beach, Chillipop has your child's feet covered in fashionable and functional shoes...
molehill (MH17-8002-M) Toddler Boot, Navy, Medium (Toddler)
List Price: $29.99
Sale Price: $29.99





Molehill Baby / Infant / Toddler Shelled Cold Weather Booties (snow-mocs) are made of an exterior shell of durable Teflon-coated breathable nylon. Plush polyester fur makes these boots comfy. Thinsulate fill for better insulation and less material...
Kamik Boys' Arvid Snow Boot, Strong Blue, 9 Medium US Toddler
List Price: $54.99
Sale Price: $33.63





Featuring bright colors that really stand out, the Arvid snow boots for toddlers will keep your little one's feet toasty and dry. Designed to defend against even the wettest winter conditions, these toddler snow boots have Kamik's DriDefense membranes, making them 100% waterproof...