Toddler Mittens & Gloves
Are you looking for a nice pair of toddler snow mittens? If so, we think the following information will help you make a more informed choice and enable you to buy the most appropriate pair for your child.
The first thing you must know is that there a some basic differences between mittens and gloves. Mittens allow all of your child's fingers to come in contact with each other and this results in a warming effect. This is an especially important consideration if your toddler is going to be outside in extremely cold temperatures. The second point about mittens you must consider is that while they are great for keeping little hands warm, they do limit dexterity, which means your child may have trouble performing some activities that require hand and finger manipulation, grasping, turning of knobs, holding on to various items, etc.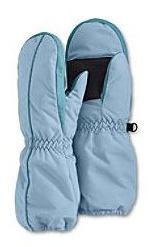 There are many styles and designs from which to choose when you are shopping for mittens. Many are light weight and designed to keep a child's hands warm while inside a heated car. Others are heavier or made with materials that provide protection in very cold weather for prolonged periods of time. You should consider what activities your toddler will be engaging in when wearing mittens and try to buy the most appropriate pair. Be wary of over dressing you child, in other words – don't put mittens designed for the frigid temperatures of Minnesota on a child who is living in a less severe climate. Heavy mittens can cause hands to sweat and this will eventually cause your baby's hands to become cold. To make matters worse, you won't realize this because the chances are your child is too young to speak well enough to tell you he or she is cold!
Toddler snow mittens come in many colors and you'll easily find a pair that matches the rest of your child's winter clothes. Many parents like to coordinate the mittens with a winter hat and it is quite easy to find matching sets for sale online and in local clothing stores. Many manufacturers also include fastening devices that help your child's mittens stay snugly fitted to their hands and some even allow for attaching to the cuffs of winter coats or snowsuits so they do not get lost. This is a great feature and will save you money in the long term.
We recommend that you conduct a thorough online search for your toddler snow mittens, as we feel it is there that you will find the widest selection and best prices. Shop only with reputable merchants and ask in advance what the return policy is should the mittens arrive with a defect or they don't fit your child properly. And if you find a set of mittens that match perfectly the toddler snow boots, desto better!
We hope we've helped you learn more about mittens and wish you luck as you try to find a suitable pair for your toddler.
Happy Shopping!
Luvable Friends Baby Scratch Mittens, 4 Pack, pink floral, 0-6 Months
List Price: $5.99
Sale Price: $4.99





Luvable Friends scratch mittens are the perfect way to keep your baby's little hands covered and avoid scratching. All scratch mittens are 100 percent combed cotton and soft on baby's gentle skin. Assorted with 2 colorful prints and 2 coordinating solids.
Toddler 2-3 Years Soft And Warm Fuzzy Interior Lined Mittens 6-Pack
List Price: $19.99
Sale Price: $19.99





Parents remember little hands get cold while making snow angels and snowmen. Make sure to keep your toddlers warm and comfy in our Soft And Warm Fuzzy Interior Lined Mittens This durable toddler Fuzzy mittens is perfect for all your little one's outdoor fun during the cold season ahead...
Gerber Baby Girls Apparel - 0 - 3 Months - Birdie, 4 Pack
List Price: $5.99
Sale Price: $5.99





Gerber newborn mittens are essential for keeping baby's hands covered during the first few months to prevent from scratching baby's little face. This set of four 100 percent cotton mittens feature a gentle elastic gathering at the wrist to keep in place...